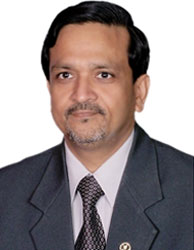 Prof. A. K Misra graduated (BVSc & AH) from Mathura Veterinary College in 1979 and obtained MVSc and PhD degrees in Veterinary Gynaecology and Obstetrics from the same college in 1981 and 1996 with academic distinctions. Prof. Misra secured II position in order of merit in all the 4 years of BVSc & AH and was awarded 'University Silver Medal'. He topped the University in MVSc and was awarded 'Chancellor's Gold Medal'. His PhD work on embryo biotechnology in buffalo was adjudged as the outstanding post-graduate research work, for which he received 'Jawaharlal Nehru Award' of the Indian Council of Agricultural Research, New Delhi.
During his career, Prof. Misra worked in several capacities including Director, Project Directorate on Cattle (ICAR), Meerut; Professor, Animal Reproduction, Gynaecology and Obstetrics, GB Pant University of Agriculture and Technology, Pantnagar; General Manager (CEO) of Sabarmati Ashram Gaushala (SAG), a unit managed by the National Dairy Development Board. Besides, working as the Additional General Manager, Project Manager, Manager (ET/SS/ONBS), following recruitment as Executive by the NDDB. Prof. Misra has the unique distinction of working with 'excellence' in the corporate body/ industry, state agricultural university and an ICAR institute.
Besides management of ~ 1000 acre agriculture farms, mechanized farm of exotic cows and bulls, a bull progeny testing programme involving 4 districts of Gujarat and state-of-the-art largest frozen semen production station of the country, Prof. Misra has been involved in the development of embryo transfer and frozen semen technology in cattle and buffalo. Besides standardization of freezing of buffalo semen in early 80s, he did pioneering work in the field of embryo biotechnology in buffalo and produced the first buffalo calf by successful freezing and thawing of embryos, non-surgical and surgical embryo transfer in India/Asia. He successfully implemented ONBS project for the first time in Asia and was also involved in the successful vitrification of immature buffalo oocytes. Under the mission mode National Science and Technology Project on Embryo Transfer of the DBT, NDDB being the lead implementing agency, he established a network of Main ET Lab at Bidaj, 4 Regional ET Labs at Nasik, Hessarghatta, Raebareli and Nekarikallu and 15 State ET Labs in different states of India and produced thousands of cattle calves and over 120 buffalo calves. Under this project he produced a record 11 calves following transfer of 15 embryos, in to 14 recipients (78.6% conception), which was widely acclaimed by the media and the Prime Minister. At Pantnagar University, Prof. Misra has taught 5 UG and 10 PG courses and guided many students for their Master/Doctoral research. He established OPU-IVF technology in buffalo and Sahiwal cows and was involved in production of first buffalo calf through OPU-IVF in India. As Director PDC, he included indigenous cattle breeds Sahiwal, Gir and Kankrej for their development in India and established two more field progeny testing centre at Pantnagar and Gangtok. Also, Molecular Breeding and Spermatogonial Stem Cell Labs were established to do research in these frontier areas of science.
He has authored/ edited 7 books/book chapters, 6 manuals, many reports, besides 71 scientific papers in peer reviewed journals (International- 30, National- 41) and presentation of over 130 scientific papers/ lectures in conferences. He has been the Member of the Editorial Board of 'Journal of Buffalo Science' (international) and Indian Journal of Animal Science, and has reviewed research papers of the journals-Theriogenology (USA), Livestock Science (The Netherlands), Buffalo Journal (Thailand) and a large number of Indian Journals. He has also been used as consultant/ resource person by the FAO, International Atomic Energy Agency (IAEA), Vienna-Austria, Integrated Watershed Development Project Hills-II (Kandi), Solan (H.P.), a World Bank Project, National Bank for Agriculture and Rural Development, Mumbai, Uttaranchal Livestock Development Board, Dehradun, besides advising several state/ central government and non-government organizations as Chairman/ Member of several national/ international committees related to Dairying/ Animal Reproduction/ Embryo Biotechnology. At present he is the member of the Management Committee of National Meat and Poultry Processing Board of Ministry of Food Processing Industry, Govt. of India, Board of the Management of Indira Gandhi Agriculture University, Raipur, Chattisgarh, Research Advisory Committees of the National Dairy Research Institute, Karnal and Research Advisory Committee of the Central Institute for Research on Buffaloes.
He has visited many countries including USA, Germany, Italy, The Netherlands, Denmark, Brazil, United Kingdom, Canada, France, China, Indonesia, Sri Lanka, and Afghanistan as Visiting Professor/ Invited/Sponsored Speaker/Chairman of the Session or other professional work. He has been expert in the selection committee/ assessment of ASRB, IVRI, Public Service Commission Uttarakhand and a large number of Agricultural/ Veterinary universities. He has been honoured with 'Rafi Ahmad Kidwai Award, 'Jawaharlal Nehru Award' of ICAR, 'Fellow- National Academy of Veterinary Sciences' , 'Fellow-Indian Society for the Study of Animal Reproduction (ISSAR)', 'Fellow- Indian Society for the Advancement of Canine Practice' 'CR Sane Oration Award' of ISSAR, 'Nils Lagerlof Memorial Award of ISSAR', besides many other awards. As a sportsman, he represented Cricket and Hockey teams of the CSA University of Agriculture and Technology, Kanpur (UP) and was Captain of the Hockey Team of the College of Veterinary Science and Animal Husbandry Mathura.