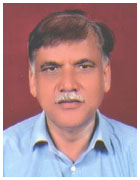 Dr. Avinash Ganpatrao Karpe graduated (BVSc & AH) from Marathwada Agricultural University, Parbhani in 1980 and obtained MVSc and PhD degrees in Veterinary Microbiology  from Marathwada Agricultural University, Parbhani  and Kerala Agricultural University, Vellanikkara in 1982 and 1994 with academic distinctions. He was awarded 'Junior fellowship' of ICAR in 1980. He has completed additional degree in law (LL.B) and diploma in labour law (D.LL)with distinction from Marathwada University, Aurangabad in 1986-87. He was awarded as fellow in Veterinary Public health (I.A.V.P.H.S) by AIVPH Society in 2011.
During his career,  he worked in several capacities starting as Junior Scientist of Animal Disease Diagnostic & Research Centre, Assistant Professor, Associate Professor of Veterinary Microbiology, Head of Animal Biotechnology at College of Veterinary & Animal Sciences, Parbhani, Associate Dean of Krantisingh Nana Patil College of Veterinary Sciences  Shirwal. He is having a vast experience of 33 years and 6 months in undergraduate  and postgraduate teaching and research in the field of Veterinary Microbiology and Animal Biotechnology.
His PhD work on Plasmid mediated drug resistance and resistance towards metals in Escherichia coli was pioneering work in the era of traditional veterinary microbiology.
He has authored/ edited 01 book, book chapters 06, 6 manuals, many reports, besides 62 scientific papers in peer reviewed journals and presentation of over 40 scientific papers/ lectures in conferences
He has also been used as consultant/ resource person by State Animal Husbandry Department, Maharashtra, Society for biosafety awareness, HSADL, Bhopal, Animal Biotechnology department of various colleges under state universities and colleges.
He has fuelled in the institutes with good funding from various state and central agencies and implemented various projects such as Strengthening of TVCC and paraclinical departments at KNPVC, Shirwal (Rs. 500 Lakhs), Establishment of Rapid Disease Diagnostic Laboratory (Rs. 194 Lakhs), Establishment of Feed Testing Laboratory (Rs. 200 Lakhs) at COVAS , Udgir, Establishment of Turkey Unit (Rs. 27 Lakhs), Establishment of Piggery Unit (Rs. 48 Lakhs), Establishment of Milk Processing Plant (Rs. 68 Lakhs) at KNPVC, Shirwal and many more as implementing officer/investigator.
His keen interest in research includes molecular characterization of plasmid mediated drug resistance and virulence, molecular characterization of Brucella melitensis, Whole genome sequencing of Bacillus anthracis, interspecies Transmission of Rotavirus, etc.
He has implemented various extension  Farmer Awareness Campaign in 422 villages,  Development of Plot-Improved varieties of Fodder in adopted villages, Demonstrations of  Urea treatment, Clean milk production,  Summer management of buffaloes, Azolla  production, Silage making, programmes successfully.  Also implemented national programmes such as  Mera Gaon Mera Gaurav , Swachhata Abhiyaan successfully.
He has been expert in various selection committees of University/ VCI evaluation and inspection committee.
*****